When you bought a shower faucet or bathtub faucet, you can choose a appropriate height to install the water hose. The distance between the hot and cold water hose must over 15cm. And don't forget to clean the water hose before installation in order not to have hard water which can damage the faucet.
Shower faucet and bathtub faucet with concealed installation: after buying the concealed faucet, you should reserve the valve of the faucet to the wall at first. During the reserving time, you should pay attention to the thickness of the wall of your bathroom. If the wall is too flimsy the valve can not reserve. Do not remove the plastic protection netting of the valve in order not to damage the valve with cement or other hard items. In addition, you should also pay attention to the direction of the valve which lead to up and down or left and right. If the dimension of the faucet has some mistake when reserving it to the wall, you can use a adjust abduction to correct the dimension.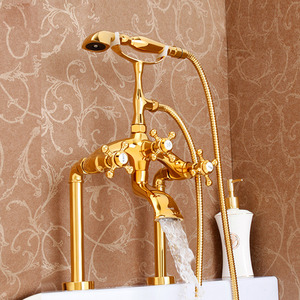 For the thermostatic faucet, before installation you need to check the water hose whether the left hose for hot water while the right hose for cold water in order not to connect the water hose in wrong. Water heaters for gas and solar can not use the thermostatic faucet because of the low pressure. In addition, don't forget to install the filter for cold and hot water.